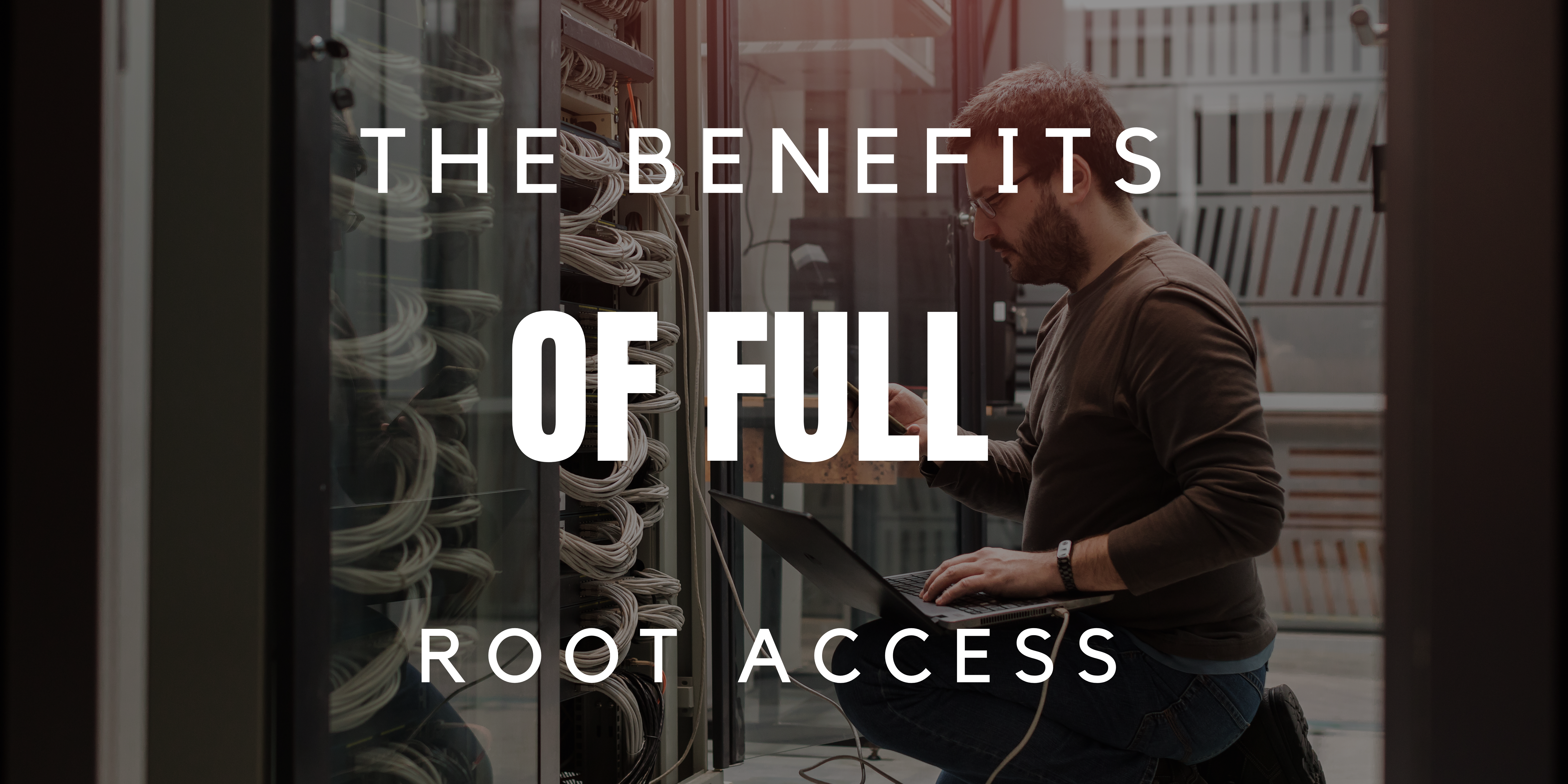 If you want complete control over how you configure your VPS, cloud or dedicated server, then you will need full root access. In this post, we explain what full root access is and the benefits that come with having it. 
What is full root access?
Full root access is an administrator-level log-on for VPS, cloud and dedicated servers that gives you the ability to take full control of your server. This happens because, as a root admin, you are given access to and the privileges to modify the root directory. As all the other directories and files are kept within this directory, you have complete management control, with full access to every command and file.
Full root access is available for all VPS, dedicated server and cloud hosting solutions, even if clients choose a managed service. However, it is not available on a shared hosting plan. This is because the server is shared by many users and root access to anyone but the hosting provider would be unfeasible.
How to get root access
How you get root access depends upon whether you have a Linux or Windows server. With Linux servers, you will need to establish an SSH connection to your server with the username 'root'. You will also need the root password, and your server's assigned IP address. You can establish a connection to the server using SSH Client Software, such as Putty or Secure CRT.
If you have a Windows server, you can get root access by establishing a remote desktop connection with the username 'Administrator' together with the administrative password and the server's IP address. A connection can be made using Microsoft's Remote Desktop Connection Manager.
Do you need full root access?
The answer to this depends on what you want to do with your server. In many cases, you might not need access to the root directory, even if you are given it. It's also not a good idea to make changes to it if you do not have the technical experience and understanding to carry out the things you want to do. This is why a managed solution can be helpful as the service provider can carry out tasks for you. However, lots of businesses do require root access as it enables them to do things they could not do without it.  
The benefits of full root access
Total control of your server
Full root access gives you complete control over your server. It enables you to install the software that your business needs, including your choice of operating system, and importantly, gives you the ability to configure the server and the software as you please. You are not limited to the types of software you can install, as you would be with shared hosting, and you don't need to rely on your host to make any changes for you, you can carry them out yourself.
Improve security
Security is vital for websites, especially those that collect user data or which take payments. To ensure the data and transactions are secure, you may need to install third-party software on your server and in many cases, you may need root access to achieve this. What root access also does is enable you to configure your server's security settings in a way that is most appropriate for your company's needs.
Restrict file editing
Full root access is only available to system administrators. As a result, it means that you can block other users of your system from modifying, moving or deleting files and folders. This prevents the potential for human error and stops employee sabotage from causing serious issues. At the same time, if an employee's login credentials are stolen by a hacker, as the employee doesn't have root access, hackers will not be able to get their hands on the root folder.
Potential issues with full root access
With shared hosting, anybody can build and run a website without needing the know-how to administer the server. This is because the server admin is taken care of by the web host. While the full root access that comes with VPS, cloud and dedicated servers offers the benefits above, carrying out root-level activities does require some technical experience if serious issues are to be avoided. If your company lacks in-house IT expertise, it doesn't mean you cannot make use of VPS, a dedicated server or the cloud, but you should choose a managed solution where the service provider will still carry out server admin tasks on your behalf.
Conclusion
Full root access offers those with VPS, cloud and dedicated server hosting complete control over their server so they can install the software they need, configure it as required and make their systems more secure. However, where there is a lack of in-house server admin experience, a managed solution is the wisest option. For more information about our managed VPS, cloud and dedicated server solutions